Excursions and Tourist Visit :
Fecamp & Etretat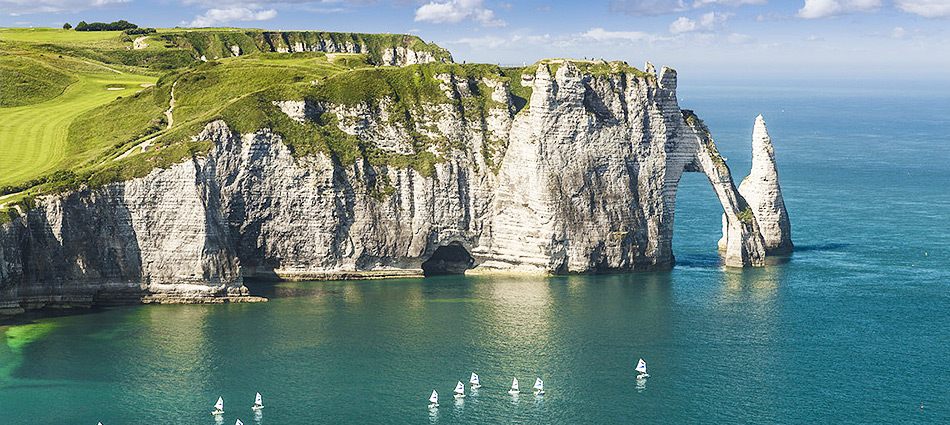 INFORMATIONS
Excursions & tourist visit to Fecamp & Etretat
Duration : 10 hours 
Etretat
Étretat is a charming community in Normandy on the Côte d'Albâtre, the Alabaster Coast, on the French side of the English Channel.
The town is famous for its beach resort and stunning white cliffs, which includes three natural arches, tunnels and a large rock needle. The cliff formations protect the beach from the wind.
The cliffs have always attracted artists including Eugène Boudin, Gustave Courbet and Claude Monet. Philosopher and historian Élie Halévy was born in Étretat.
Guy de Maupassant, considered the father of the short story, spent most of his childhood in Étretat. Later, he built a home there.
Enjoy lunch on your own in any of the excellent restaurants and cafés in Étretat.
Fecamp
Visit the town of Fécamp, the home of Bénédictine, the world-famous liquor. The Norman kings ruled from Fécamp until the 13th century. The town became famous for its salt herrings in the 10th century and smoked herrings in the 13th century. The town was a major center of cod fishing until the 1970s. Today, pleasure boats outnumber the fishing boats in the picturesque harbor.
Enjoy a fascinating tour of Bénédictine Palace, a combination of distillery and museum. Bénédictine liqueor is produced in the palace and shipped all over the world. Alexandre-Prosper-Hubert Le Grand, a wine merchant, industrialist, art collector and brilliant marketer, invented the liqueor in 1863. He was probably the source for many of the most colorful – and probably not true — stories about the history of Bénédictine.
Location